Governor General William Phillips is the National Leader of The Commonwealth of Australia as well as the leader of the Alliance The Empire Governor General Phillips was born in the Suburb of Strathfield in the City of Sydney in 1945 and joined the Australian Army aged 15, he served in Rhodesia and South Africa as well as being part of the occupation force of Japan. He retired from the Regular Army in 1980 at the rank of Lieutenant Colonial before transferring over to the territorial forces to follow a career in politics.
In the late 80's after seeing the mass break off of commonwealth nations Phillips decided to run for Prime Minister and won, he along with his government successfully passed the act to rename the nation 'Commonwealth of Australia' as well as gain the right to create the alliance 'The Empire' solely devoted to promote the idea of a Commonwealth and Empire under Her Majesty Queen Elizabeth II. After several years of Building up 'The Empire' then under the command of an Israeli General John I found itself locked into a war with a rival alliance due to badly arranged diplomatic ties. The result was the complete destruction of an allied alliance and the defeat of 'The Empire' From here the alliance was out of control and after 3 months of total chaos, Phillips and his Canadian counterpart Governor Chapman had seen enough. Overnight 3 Billion dollars was split between the two and so The Empire was revived.
From here Governor General Phillips and Governor Chapman have spent all their efforts making better diplomatical treaties, stronger trade as well as a full Re-equipping of weapons and better equipment to both nations defense forces. Known as 'Operation Dragoon'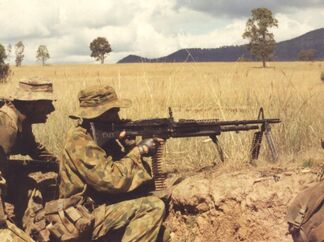 Governor General Phillips now continues to build inter-alliance trade and military intelligence as well as making efforts into broadening The Empires friends so it may never again fall to the sword of another alliance.
The Empire is currently dissolved throughout many different alliances within orbis. However they are kept together through alliances and trade acts coordinated by Phillips.
Community content is available under
CC-BY-SA
unless otherwise noted.