Velrulion

Flag of Velrulion

Emperor Xavier Renarus
Templar Guardian of Knights Templar
Basic Information
Founded
01/09/2017
Color
Red
National Statistics
Government Type
Absolute Monarchy
Social Policies
Conservative
Economic Policies
Left
Economy
Capitalist
Religion
Imperial Chalcedonian
Pollution
0.00%
Currency
Imperial Dollar
GDP
$1,014,741,511.00
Civilians
3,004,304
Area
58,800 sq. miles mi²
Avg. Pop. Density
51.09 people/sq. mi people per mi²
Military Strength
Military name
Imperial Forces of Velrulion
Nation Rank
#436
Score
3106.10
Infantry
315,000
Tanks
26,250
Aircraft
1.890
Ships
210
Spies
Classified
Missiles
0
Nuclear Warheads
0
OBL
Stadium:
Imperator Edge
Team:
Solar Sails
Win/Loss:
67/88
Investment
$1,204,500.00
Cities
National Capital
Velrel
Other Cities
Coria, Dorndal, Hirundum, Maribor, Carreras, Innisvale, Emona, Barrow, Abila, Ellesmere, Ravnica, Fiora, Beuclair, Quik, Andells, Adrico, Knightald, Omenchester, Nemont, Roseveld
Official National Description
Edit
The Imperial Commonwealth of Velrulion is a nation led by Emperor Xavier Renarus. First of his name, Rexus of the Imperium, Imperator of Velrel, Archon of Velrulion's many cities and colonies. Velrulion's government is a Monarchy with very conservative social policies. Economically, Velrulion favors left-wing policies. The official currency of Velrulion is the Imperial Dollar. While the state has secular aspects, the official religion of Velrulion is a Christianity based, state-sponsored sect called the Imperial Chalcedonian. Velrulion has a population of 3,896,795 and a land area of 38,000.00 sq. miles. This gives it a national average population density of 102.55. Pollution in the nation is everywhere. The citizens' faith in the government is always at an all-time high with an approval rating of 100%.
Velrulion has been the recipient of a number of awards, both from alliances and the game itself. A number of the national awards attributed to Velrulion by the game are mostly not of note, with the exception being the 2nd Place, Tournament 3 award. Awards attributed to Velrulion by an alliance has mainly been contributed by the Knights Templar through an assortment of war ribbons and medals in service to the Knights Templar.
In-Game Awards
Edit
KT Awards
Edit
On 02/12/2020, Emperor Xavier Renarus of Velrulion was attributed by the Knights Templar Grandmaster the "
Special Recognition from Grandmaster
" medal. One of the highest achieving awards within the Knights Templar. In addition, he was given another high standing award, the "
Outstanding Service in War
" medal.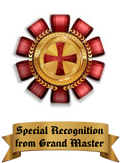 Quoted from the KT Award Ceremony, from Grandmaster Horsecock: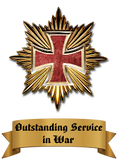 "I would also like to take this opportunity to give out the rarest of all decorations to the 2 KT members who deserve it the most. The ones who have not only been here for almost the entirety of our existence but have also excelled for that whole time period. You two have never gone inactive and you've never complained; instead, you've risen to all challenges put before you and mastered them in the truest manner of our spirit. You are what makes me proud to call myself a KT member, and I am honoured to continue calling you my brothers. Xavier Renarus and Rygus, you are the best of us. I hereby present you with our highest honour, the Grand Master's Special Recognition."
https://politicsandwar.com/nation/id=57265
https://politicsandwar.com/forums/index.php?/profile/7808-lordinfinitius/
Community content is available under
CC-BY-SA
unless otherwise noted.