The Originals


Flag of The Originals

Basic Details
Founded
06/16/2019
Color
Brown
Status
Defunct
Discord Server
Join Here
Government
Everqueen
Rebekah Mikaelson
Princess
Hope Mikaelson
Economic Affairs
Rosa Cossette D'Ellis
Military
-
Internal
Finn Mikaelson
Foreign
StonyCrayon
Statistics
As of
10/04/2019
Total Nations
38
Score
73,848.37
Average Score
1,943.38
Alliance Rank
#28
Relationships
Active Blocs
Active Treaties
MDoAP
Farkistan
MDoAP
Pantheon
MDoAP
The Immortals
MDP
Deathly Hallows
MDP
The Coal Mines
Protectorate
Riocht Sasana
Protectorate
Legacies
Protectorate
UTRGV PSA
The Originals is a brown team alliance which was formed on the 16th June 2019. It's theme is based on the TV show of the same name and copied the name of a recently disbanded alliance led by Elijah Mikaelson who's played no role in this incarnation. The Original 'The Original's merged into Yakuza in early June.
Government
The Originals uses the supernatural world of its namesake to give members the opportunity to roleplay as Vampires, Werewolves, Witches and many more including something not found in the series. elves.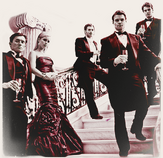 The alliance itself is a monarchy that is ran by the Queen who wields absolute power. However, there are other gov members who help with the day to day life of the alliance.
For FA we have Stony (StonyCrayon) who is the head of the department. In IA we have Finn Mikaelson (Ashton Rowe) who has been apart of the alliance since the hour it was first launched till now. In Econ we have Rosa Cossette D'Ellis (Shannakay), who is also the recently appointed Crown Princess of the alliance.
Recently, the Queen has begun extending her dominion by taking on protectorates (extensions of The Originals). While in most cases, they are completely different alliances with different themes, they are all officially recognised as being apart of TO itself. An attack on them would be an attack on TO and vice versa.
The Original family of vampires consist of, Kol, Finn, Klaus, Elijah, Rebekah and Mikael. However that isn't the entire Mikaelson bloodline. In fact, it only lists a few of a rather extended family.
The one thing they hold above all else however is that vow, to always fight for each other and to remain together, Always and Forever. Its the bond that cannot be broken. The Bond of Family.
Community content is available under
CC-BY-SA
unless otherwise noted.