The Confederation
CONFED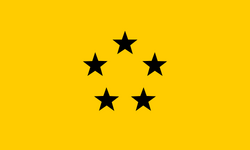 Signatories
Former Signatories
Association of Military Composite
Treaty Type: MDoAP Bloc
Treaty Signed: June 22, 2019
Treaty Status: Defunct
The Confederation was a MDoAP bloc that was formed by Association of Military Composite, Weebunism, Amestris, The Coal Mines, and The Socialist League.
The Confederation was later converted into Astra.
Founding Treaty
The terms of the founding treaty are as follows:
All signatories agree to mutually defend one another in the case of an attack against one of/multiple signatories by an outside threat.
All signatories acknowledge that they are not obligated to join the offensive operation/wars of the others but that they may do so if they wish.
If a signatory wishes to leave the coalition, they may do so, however a 128hr notice must be given first, to the rest of the coalition.
If a member of the coalition is attacked because the attacking alliance is countering an attack against them, the coalition may attempt to negotiate peacefully however is not obligated to defend the member being attacked. 
All signatories agree to defend the other's protectorate (an alliance being protected by the said alliance).
Additional Clauses
Membership
Alliances that seek to join the bloc must appeal to the Discord server.
Entering alliances are subject to a vote by preexisting members of the Confederation.
Entry is secured through a 2/3 majority vote.
New members will have temporary membership under an ODoAP treaty for three months.

If the new alliance proves themselves to meet expectations within those three months or by the end of the three months, they will be made a permanent member of the Confederation.
Withdrawal
Withdrawal from the Confederation must be notified 128 hours prior (as due to the treaty)
There are no repercussions for leaving the coalition.
Expulsion
Alliances of the coalition may be expelled from the Confederation if voted out through a consensus by the majority of other member alliances. A simple majority is necessary.
Member Registry
Founding Members
The following are alliances that founded the Confederation.
Assocation of Military Composite
Permanent Members
Temporary/Transitionary Members
Withdrawing Members
Former Members
Assocation of Military Composite

(Ousted on July 14, 2019)
Hydra (Permanent Member since July 15, 2019; Withdrew on September 1, 2019)

Elite Democratic Republic

(Temporary since June 28, 2019; Permanent since July 18, 2019; Dissolved)
Reforms
The bloc has since gone through reforms and renamed as Astra.