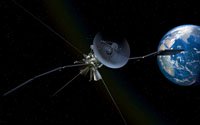 Telecommunications Satellite is a national project that increases the Commerce rate in each city by 2%, and increases the maximum Commerce rate to 125% in all cities. Requires the International Trade Center, City Planning, and Space Program national projects to be built first.
To build this project you need $300,000,000, 10,000 Uranium

, 10,000 Iron

, 10,000 Oil

and 10,000 Aluminum

.
Community content is available under
CC-BY-SA
unless otherwise noted.