This page is about game mechanics.

This page is about game mechanics. It contains information such as formulas, costs, & other miscellany. See Category:Mechanics for other pages on game mechanics.
Overview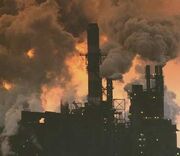 The Pollution Index of a city indicates how polluted your city is. Pollution is increased by most improvements. Each pollution point increases your disease rate by 0.05%. Recycling Centers and Subways reduce your pollution index.
Effect on Disease Rate
Pollution causes the disease rate of a city to increase in a linear fashion. This results in a corresponding reduction in total population.
Disease Increase = ( .05% ) * ( Pollution Points )
Improvement Pollution Factors
| Power  | Resources | Manufacturing | Civil | Commerce | Military |
| --- | --- | --- | --- | --- | --- |
| Coal Power +8 | Bauxite Mine +12 | Oil Refinery +32 | Police Station +1 | Supermarket +0 | Barrack +0 |
| Oil Power +6 | Coal Mine +12 | Steel Mill +40 | Hospital +4 | Bank +0 | Factory +0 |
| Nuclear Power +0 | Farm +2 | Aluminum Refinery +40 | Recycling Center -70 | Shopping Mall +2 | Air Force Base +0 |
| Wind Power +0 | Iron Mine +12 | Munitions Factory +32 | Subway -45 | Stadium +5 | Drydock +0 |
| | Lead Mine +12 | | | | |
| | Oil Well +12 | | | | |
| | Uranium Mine +20 | | | | |