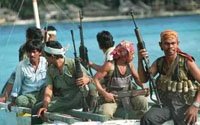 Pirate Economy is a national project that enables the nation to use an additional offensive war slot, thereby increasing the cap to 6 offensive wars. This national project requires the nation to have won or lost a combined 50 wars, as well as have already build the Propaganda Bureau national project.
To build this project you need $25,000,000, 10,000 Aluminum

, 10,000 Munitions

, 10,000 Gasoline

and 10,000 Steel

.
Community content is available under
CC-BY-SA
unless otherwise noted.