This page is about game mechanics.

This page is about game mechanics. It contains information such as formulas, costs, & other miscellany. See Category:Mechanics for other pages on game mechanics.
Overview
Edit
Orbis is the world on which the ongoing political and military struggles documented on Politics and War occur.
Orbis may refer not only to the virtual in-game world, but also to the roleplay world created by the community.
The name of the world was chosen by the P&W community itself. Through the Orbis World Forum, the very first inhabitants of this virtual world proposed several names and voted on them. The winning name "Orbis" was proposed by Sheepy who was inspired by the latin word "orbis", meaning (along other things) "world" or "Earth".
Orbis Date, Seasons, Time, Turns and Activity
Edit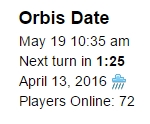 Information provided:
Real Date: e.g. May 19 (2017)
Orbis Date: e.g. April 13 2016 (it differs from the Real Date)
Weather icon: e.g. Cloudy = Spring: Normal food production
Orbis Time: e.g. 10:35 am (time in UTC )
Next turn in: e.g. 1:25 (1 hour and 25 minutes)
Players Online: e.g. 72
The seasons run as follows: Dec-Feb (Winter), Mar-May (Spring), Jun-Aug (Summer), and Sep-Nov (Fall).
Each turn lasts for 2 hours, resulting in 12 turns per day.
World Stats
Edit
As of 07/14/2019

World Population: 10,954,567,339 people

▲

Total Money in Existence: $686,538,349,934.92

▲

Total Money in Nations: $301,353,764,978.27

▲

Total Money in Alliance Banks: $385,184,584,956.65

▲

Total Number of Nations: 17,545

▲

Total Number of Alliances: 297

▲

Total Number Of Nukes 1981

▲

Total Number Of Nuclear Capable Nations 679

▲
Announcements
Edit
Community content is available under
CC-BY-SA
unless otherwise noted.