This page is about game mechanics.

This page is about game mechanics. It contains information such as formulas, costs, & other miscellany. See Category:Mechanics for other pages on game mechanics.
Overview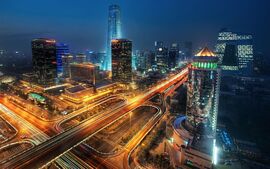 Infrastructure is the basic foundation of a city. It increases the Base Population of a city and allows more Improvements to be constructed. Infrastructure becomes 5% cheaper with the Center for Civil Engineering project.
Relation to Population
Infrastructure directly affects the base population by increasing it at a maximum of 100 people per 1 infrastructure. The formula is:
Base Population = Infrastructure * 100

Cost Per Level
Infrastructure cost follows an exponential curve. Interestingly enough, the cheapest infrastructure available is not at zero infrastructure.
Cost Per Level = 300+[(Infrastructure-10)^2.2]/710

Infra
Cost/Level
Cost per 100 infrastructure
Cumulative cost
10
$300
$27,000
100
$328.68
$36,468.04
$27,000
200
$577.70
$57,769.59
$63,468.04
300
$933.40
$93,339.71
$121,237.64
400
$1,428.69
$142,869.34
$214,577.35
500
$2,061.50
$206,149.88
$357,446.69
600
$2,830.24
$283,023.83
$563,596.57
700
$3,733.65
$373,364.76
$846,620.40
800
$4,770.67
$477,067.22
$1,219,985.16
900
$5,940.41
$594,040.79
$1,697,052.39
1000
$7,242.06
$724,206.43
$2,291,093.18
1100
$8,674.94
$867,493.94
$3,015,299.60
1200
$10,238.40
$1,023,840.23
$3,882,793.54
1300
$11,931.88
$1,193,188.06
$4,906,633.77
1400
$13,754.85
$1,375,485.00
$6,099,821.83
1500
$15,706.83
$1,570,682.76
$7,475,306.83
1600
$17,787.37
$1,778,736.57
$9,045,989.59
1700
$19,996.05
$1,999,607.71
$10,824,726.16
1800
$22,332.48
$2,233,248.13
$12,824,330.87
1900
$24,796.30
$2,479,630.15
$15,057,579.00
2000
$27,387.16
$2,738,716.16
$17,537,209.15