We're Getting Mutants in the MCU - The Loop
Play Sound
Collapse in the Mines

Part of the alliance wars

Date
November 8, 2019 - November 29, 2019
Casus belli
TCM:

Pantheon attacking Demacia


Pantheon:

Morrowind (Demacia) attacked first

Result
White Peace
Preceded by

Tantrum War

Concurrent

NPO's Last Time

Combatants


Pantheon

World Task Force

The Immortals

The Federation

GOONS


---


Astra

---


Golden Phoenix Coalition 


---

Commanders

SixSadistic66
Nintendo
Lord Tyrion
Alcyr
Kosta
Jazz R Oppenheimer


Matthew the Great
Nokia Rokia †
Epimetheus 
MinesomeMC 

Collapses in the Mines (also called Poor Pantheon) is a conflict that arose when a member from Morrowind (Demacia) raided Pantheon. Pantheon, in retaliation, countered that raid and the conflict spiralled from that event. The Coal Mines believing its protectorate was getting attacked, joined in, along with Golden Phoenix Coalition, and supporting allies.
Result
On the 29th of November, Pantheon claimed victory, however, white peace was achieved early. The Coal Mines did not sign any treaty or make any claims of surrender to Pantheon. The Coal Mines did, however, surrender to GOONS a few days before Pantheon claimed victory.
Timeline
November 8, 2019
Demacia hits Pantheon.
Pantheon counters Demacia.
TCM and allies attack Pantheon.
November 9, 2019
November 10, 2019
Peace between World Task Force is negotiated.
Miscommunications and refusal of talks cause the war between Pantheon and Anti-Pantheon Coalition to continue.
November 16, 2019
November 24, 2019
GOONS hits TCM over claims of paedophilia against Nokai Rokia, which were later proven false.
November 25-26, 2019
November 29, 2019
Logs.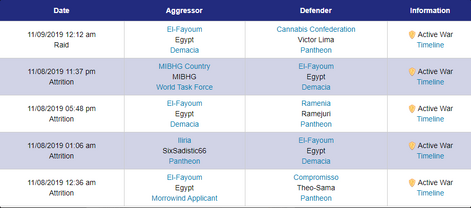 Links