Atlantian Council


Flag of Atlantian Council

Basic Details
Founded
05/18/20
Color
Black
Status
Active
Discord Server
Join Here
Government
Royal Crown
Pockets, Karen theEnlightened
Heirs of the Ocean
Rockychososo, Sonata Pizzicato
Dragon of the Sea
sir bob, Unal
Statistics
As of
3/1/2021
Total Nations
40

▲

Score
54,329.83

▲

Average Score
1,358.25

▼

Alliance Rank
58

▼

Relationships
Active Blocs
Active Treaties
Protectorate
Aurora
Protectorate
Taith
MDoAP
NWSRFE
MDoAP
Mandalore
MDoAP
Pantheon
NAP
Black Skies
NAP
Nuka-Cola Bottling Company
NAP
Dual Suns
NAP
Dragon Confederacy
On May 18, 2020 the Atlantian Council was born. Despite the rocky start, they have slowly climbed their way to make a difference in the Politics and War community. You should totally join! Atlantian Council is nuclear capable!
[Page under construction]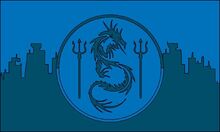 Community content is available under
CC-BY-SA
unless otherwise noted.