AM-3 "Phantom Doom"
AM-3A during the final testing phase
Role
Mobile SPG

National origin

Republic of Finland
Manufacturer
Finnish Arms & Armor Co.
Introduction
March 1, 2015
Status
Active Duty
Primary users
Republic of Finland
GPA International Defense Battalion
Produced
March 13, 2015

Number built

2,200

Unit cost

$1.500.000

Developed from

M270 MLRS
Variants
AM-3a2, XM-4
AM-3a1 "Phantom Doom"
Edit
The AM-3 "Phantom Doom" is a whole new line of self propelled guns (SPG) developed Finnish Arms & Armor Co. for the Republic of Finland. The AM-3 was made for fast and mobile artillery support for ground forces including tanks, soldiers, and cavalry.
Development
Edit
As the M270 Multiple Launch Rocket System (MLRS) as becoming older and less reliable, Finland needed a new artillery system that would do the job perfectly. Finnish Arms & Armor Co. developed the AM-3 to be fast, silent, and powerful. The AM-3 was designed to us the hull of the M270 MLRS while adding a few modifications to the engine and suspension. This makes the AM-3 more cost efficient and easier to make.
Specifications
Edit
The AM-3 uses a 2A88 152 millimeter Howitzer, similar to the one on the Russian 2S35 Koalitsiya-SV SPG. The AM-3 has a crew of 5: A driver, gunner, commander, and 2 loaders.
Variants
Edit
The AM-3a2 is similar to the AM-3a1, except it have several upgrades. The AM-3a2 has an auto-loading system, reducing the crew down to 3: A driver, gunner, and a commander. It also has added armor, smoke launchers, and sensors for better situation awareness.
XM-4 "Wolf"
Edit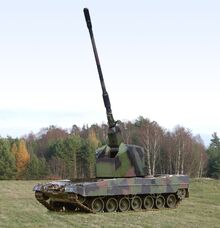 The XM-4 "Wolf" is a prototype that is currently in its testing phase. It boasts better armor, mobility, and fire power. It uses a newly developed 165 millimeter howitzer. The XM-4 also has newer technology. It has more sensors and cameras located around the SPG, a fully automated turret, a 12.7 mm machine gun, and better suspension. The XM-4 uses the hull of a United States M1a2 Abrams, which gives it more protection to the inside crew while still being able to go fast.
Community content is available under
CC-BY-SA
unless otherwise noted.